Husqvarna 450
The Husqvarna 450 is a gas powered chainsaw specifically designed for property owners and land owners who desire exquisite backyards and love getting their hands dirty doing so. It is basically an ideal tool for cutting down trees, chopping up logs and splitting wood. This power saw is very easy to start and very smooth in operations. It comes with an embedded fuel pump for easy transmission of fuel to the engine and has a Smart Start feature. Other features included in the design of this power chain saw from Husqvarna include a powerful engine, X-Torque engine designed by Husqvarna that delivers great power but has low emissions and an air injection technology which improves efficiency and maximizes power output. This power chainsaw delivers about 3.2 HP of power when in use, making it an ideal power tool for short and medium use. It is ideal for pruning bushes, flowers, shrubs and trees.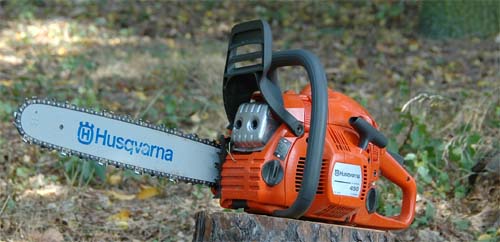 The specialized X-Torq engine used on this chainsaw enables the unit to reduce its emission by a whooping 60 percent, making it much better for the environment than others in the market. This engine design also reduces fuel consumption by about 30 per cent, making if a fuel efficient and cost efficient tool, ideal for yard and outdoor usage. This also makes the Husqvarna 450 a great companion for the outdoors due to its higher power output and lowered emission levels. The powerful engine for this little workhorse was build and designed with durability in mind. The engine can withstand many years of hard work and will weather the tough outdoor conditions to deliver great power all the time with little or no breakdown.
Another feature of the Husqvarna 450 power chainsaw is that it operates a centrifugal power delivery system that also manages an air cleaning system. This cleaning system helps preserve the engine and give it a good long life. Harmful debris is eliminated by this system before it gets to the fuel pump. The process of starting up this power chainsaw is made quite simple by the Smart Start system. The chainsaw has a start-stop button and a fuel pump that make the start-up process easy, smooth and fast. When starting up the Husqvarna 450 power saw, users simply pull on the chord, whose resistance has been reduced by up to 40 per cent, and it will start immediately. The technology involved, which includes a combined choke/stop control mechanism, enables easy starting with no flooding of the engine.
The Husqvarna 450 power saw is skillfully designed and has great aesthetic and ergonomic considerations factored in. it has been styled to look great in operation while also making it easy to use, easy to carry, portable and handy. The frame of the chainsaw is light yet sturdy with very little vibration. It is designed so as not to rattle the hands while in use or deliver any strain to the hands of a user when in operation. Changing spark plugs when out in the yard is easy. The Husqvarna 450 power saw comes with a snap-lock cylinder that enables easy changing of spark plugs and speedy cleaning. This snap-lock also enables easy tool tensioning and other functions as well. There's a transparent fuel indicator that enables quick and easy checking of fuel levels.
The following are the major specifications regarding this power saw. It has a maximum power speed of 96000 RPM, maximum power at 56.89 fts and weighs a paltry 11.33 pounds. The only major problem with this power saw is that it is designed for small and medium outdoor work. It cannot undertake heavy duty work. However, the Husqvarna 450 is a powerful back yard chainsaw ideal for homes, ranches and the outdoors.
Hitachi CS33ET14
For those people who have the hobby of making figures out of wood, this saw is lightweight enough to handle the project. This gas powered saw is great for pruning trees and clearing back the brush that has over taken some of the yard. This Hitachi has a quality engine with a 14 inch cutting blade that is easy to use as you work along your yard. It is lightweight, and has a low vibration system for easy handling. The engine has low-emission, which reduces the amount of fumes, carbon dioxide, and carbon monoxide that is released into the air. By reducing these pollutants into the atmosphere, it makes the Hitachi CS33ET14 compliant to most states regulations on air emissions. With fewer fumes it makes the saw safer to operate for longer periods of time.
With the designed feature of the Oregon bar with its chain, it reduces the strength of the kickback and gives you professional cuts every time you use your saw. With less of a kickback you are in more control of the cuts you make, and it makes it safer for you to operate the saw. When you need to change the tension on the saw it is very handy to reach, with its side position for adjustments. It has an easy pull start that you don't need to force, and the choke automatically goes in once the chain saw has started. The chain will also shut off automatically when the bar is released for safety when using your saw. Comfort features of the Hitachi CS33ET14 include the anti-vibration system, and the comfort curved handle that is covered in rubber for easier handling for extended periods of times. The Hitachi comes to your home completely put together and ready to use. It weights only 8 pounds and is easy to carry from one side of the yard to the other. It also comes with a protective cover for the chain when you are storing the saw.
If you don't already own a chain saw and need one for clean up of your yard this year, you should look into all the great features of the Hitachi CS33ET14 chain saw. You'll find it easy to use, lightweight, starts with no stressing effort and is capable of handling your yard clean up. This chain saw was designed with quality and is powerful enough to handle what ever the storms dish out in your area. The Hitachi CS33ET14 gives you a professional cutting performance and is aimed at giving you the comfort you need while working on any project.